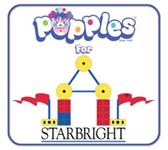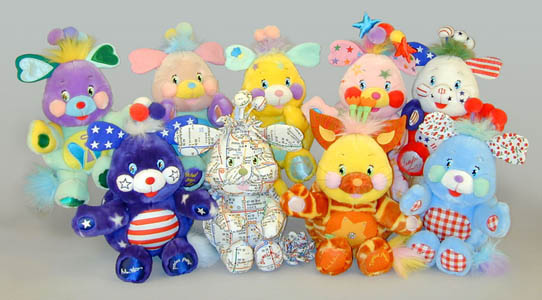 These nine one-of-a-kind Popples were designed by famous celebrities and designers and sold on eBay in November 2002 as part of a charity auction called "Popples Pop Culture Charity Design Auction" sponsored by
Toymax
and
Starbright Foundation
. Starbright Foundation is a non-profit organization chaired by Steven Spielberg and General H. Norman Schwarzkopf to benefit seriously ill children. The auction was a rare opportunity for fans and collectors to bid on the unique Popples plush along with the original autographed designs created by each celebrity.
The celebrity designers include fashion designers, actresses, talk show hosts, and musicians who all remembered the Popples from the 1980's. Each celebrity was provided with a blank Popples black and white line drawing, a box of colored pencils and an invitation to add extra flair by including a personal signature item. The nine celebrity designers have taken the time to color, customize, and in some cases, even "name" their own unique Popples. Each cuddly Popples pal has a celebrity signature printed on its left foot.
The Celebrity Popples and their designers are:
"Star-lite Popple" by Jessica Biel sports an array of purple and green stars with a tummy full of sunshine.
Elisa Donovan's colorful design of green and blue touts an angel on its yellow tummy.
"Hopper-Dopple Popple" by Rachael Leigh Cook shines with a bright yellow star on its tummy and colorful body.
"Patriot Popple" by Melissa Joan Hart, shows its true patriotic spirit. This red, white and blue Popples is decorated in stars and stripes.
"Americana Popplerana" by Ananda Lewis dons red, white and blue as a symbol of American pride.
Shoshanna Lonstein's Popples is ready for a picnic with a red gingham tummy and cherry patterned ears.
"Tiger Lili" Popple by Nicole Miller is decked out in tiger stripes and topped off with a felt and rhinestone applique flower on its tummy.
"Subway Popple" by Christina Ricci celebrates the Big Apple! This snazzy Popple is all dressed up like a New York City subway map.
"Star" Popples by Tiffany is covered with stars, and features all the colors of the rainbow.


Star-lite Popple
by Jessica Biel




Unnamed Popple
by Elisa Donovan




Hopper-Dopper Popple
by Rachael Leigh Cook




Patriot Popple
by Melissa Joan Hart




Americana Popplerana
by Ananda Lewis




Unnamed Popple
by Shoshanna Lonstein




Tiger Lili Popple
by Nicole Miller




Subway Popple
by Christina Ricci




Star Popple
by Tiffany